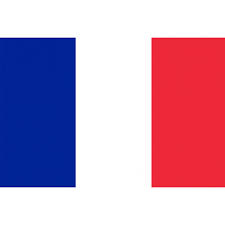 Walis today – 190th Age-of-King.
The current village of Walis is mainly known for the exploitation of its gold mine by the merchant house Tomblador (or Ardian) according to the sources. It is said that the village would be fiercely defended by many experienced guards and helped in this by several wizards (some say they are even defilers).
Access to the village and the mines is via an ingenious mechanism bringing visitors and merchants via a lifting platform. Disarmed and restricted in their movements, these visitors are closely watched because no one is allowed inside the mines or beyond a certain perimeter.
The origins of the mine remain obscure, as does its name, but it appears to have been given to him by the late Sorceror-King Kalid-Ma as a tribute to his wife who died before he even became King of the city-state of Kalidnay.
---
DMs only!
The following information is reserved for GMs. If you are a player at Dark Sun rpg, it is better to find a less sandy track, you risk discovering well-kept secrets…
---
Walis'secrets.
Before the 174th King's Age, and although no one could then define its exact location, many people knew of the existence of the gold mine. it was the subject of hundreds of rumours, each crazier than the last, and constantly fueled the lusts, the betrayals and… the disappearances that followed.
Because knowing the location of the mine was synonymous with death at that time and the evidence was not necessarily useful. The most devious, including some templars, used this knowledge as a weapon with which they helped themselves to make their competitors disappear through truncated accusations.
The mine was run entirely by the templars of Kalid-Ma and operated by his slaves for the benefit of Kalidnay.
A few years before the city was destroyed, Kalid-Ma did major work in the mine, digging tunnels and creating spaces whose final use was unknown to everyone. What was the king's goals for initiating this project? What were his purposes? No one knew, not even His templars.
Some claimed that the king was preparing some secret caches and the more daring put forward the idea of ​​creating his own tomb in the heart of the gold mine.
---
A very strange manager for very strange works…
Kalid-Ma dispatched Ardian Tomblador to supervise all the work. The former Hight templar had disappeared a long time ago and everyone, thinking him dead, was surprised at his return after so many years.
They weren't really wrong. Kalid-Ma had perceived the enormous potential of Ardian in the mastery of spells and asked him to abandon his position as High templar and devote himself entirely to the search for occult research. As his work progressed and despite all his knowledge, Ardian found that the slightest result took him an infinite time, often too long for his taste and that his body would betray him inexorably, too soon. He was getting old.
Kali-Ma sensed that he was ready to perform a ritual that would give him what he wanted most : time. Ardian did not hesitate for a second and became Kaïsharga with, now, all the time necessary to continue his research.
---
No matter the Age…
Ardian settled in Walis and supervised the work of the King while continuing its own experiments. On the death of Kalid-Ma and following the Golden Pact of Thakok-An to which he adhered, Ardian became the master of Walis, an eminence grise overseeing everything without ever appear, forever hidden in the depths of the mine.
Ardian organized a new hierarchy since the Golden Pact, in agreement with the then templars, lost and powerless since the death of Kalid-Ma. He taught them the secrets of defiling magic, making them the official rulers of the mine. Only the templars of yesteryear and now the current leaders of Walis know of its existence. Secrets and prohibitions related to the gold of the mine are put forward only to prevent anyone from discovering its presence.
Since then, Ardian has trained, modeled and influenced the new leaders of Walis. In the shadows, he pulls the strings in agreement with Thakok-An, towards a common goal. Return the King through the Obsidian Orbs.
All his learning and all his knowledge converge towards this goal. Nothing will keep him away from it and he will use Walis' gold and all his power to achieve his ends.
New experimentation? Devotion to his King? Who knows what the defiler's tortured brain hides…
By creating the fronting house Tomblador, and with the power of house Vordon, he managed to locate several orbs, two of which are now in his hands through intermediaries.
One is currently possessed by Thaxos Vordon, though he seems to be suffering some negative effects from it. (see Dunes Traders)
The second one, recovered from Tyr, is in the hands of Thakok-An. (see  House Vordon).

A third has been found in Draj for almost a decade, within the House of the mind. (see Psionic Artifacts of Athas)
---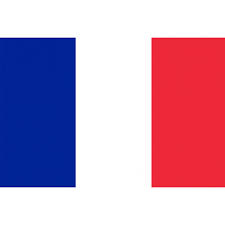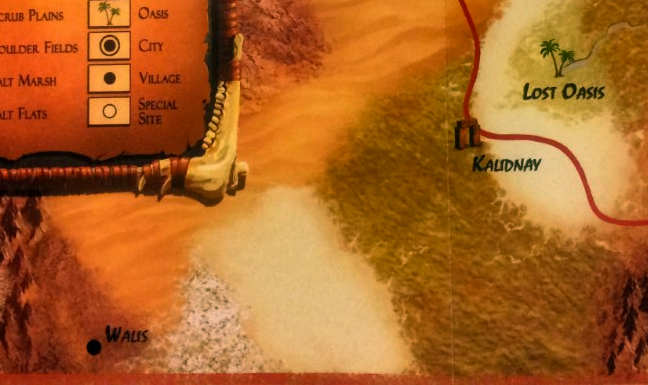 ---
Walis aujourd'hui – 190ième Age-de-Roi.
L'actuel village de Walis est principalement connu pour l'exploitation de sa mine d'or par la maison marchande Tomblador (ou Ardian) selon les sources. Il est dit que le village serait âprement défendu par de nombreux gardes expérimentés et aidés en cela par plusieurs sorciers (d'aucuns prétendent qu'il s'agirait même de profanateurs).
L'accès au village et aux mines s'effectue par un ingénieux mécanisme amenant visiteurs et marchands par le biais d'une plateforme élévatrice. Désarmés et limités dans leurs déplacements, ces visiteurs sont étroitement surveillés car personne n'est admis au sein des mines ni au-delà d'un certain périmètre.
Les origines de la mine restent obscures, tout comme son nom mais il semblerait qu'il lui ait été donné par le défunt Roi-sorcier Kalid-Ma en hommage à son épouse décédée avant même qu'il ne devienne Roi de de la cité-Etat de Kalidnay.
---
Mjs uniquement
Les informations ci-après sont réservées aux Mjs. Si vous êtes joueurs au jeu de rôles Dark Sun, mieux vaut trouver une piste moins ensablée, vous risquez de découvrir des secrets bien gardés…
---
Les secrets de Walis.
Avant le 174ième Age-de-Roi, et bien que personne ne pouvait alors définir son emplacement exact, nombreux étaient ceux qui connaissaient l'existence de la mine d'or. Elle faisait l'objet de centaines de rumeurs, toutes plus folles les unes que les autres, et alimentait sans cesse les convoitises, les trahisons et … les disparitions qui s'ensuivaient.
Car connaitre l'emplacement de la mine était synonyme de mort à cette époque et les preuves n'étaient pas forcément utiles. Les plus retors, dont certains arkhontes, usaient de cette connaissance comme d'une arme dont ils s'aidaient pour faire disparaitre leurs concurrents par des accusations tronquées.
La mine était entièrement gérée par les arkhontes de Kalid-Ma et exploitée par ses esclaves au profit de Kalidnay.
Quelques années avant que la cité ne soit détruite, Kalid-Ma fit de grands travaux au sein de la mine, creusant des tunnels et aménageant des espaces dont chacun ignorait l'utilité finale. Dans quel but le roi lançait-il ce projet ? Quels étaient ses desseins ? Nul ne le savait, pas même Ses arkhontes. D'aucun prétendirent alors que le roi préparait quelques caches secrètes et les plus téméraires avancèrent l'idée de l'élaboration de son propre tombeau au cœur de la mine d'or.
---
Un bien étrange maître d'oeuvre pour de biens étranges travaux…
Kalid-Ma dépêcha Ardian Tomblador afin de superviser l'ensemble des travaux. L'ancien arkhonte en chef avait disparu depuis fort longtemps et tous, le pensant mort, s'étonnèrent de son retour après tant d'années.
Ils n'avaient pas vraiment tort. Kalid-Ma avait perçu l'énorme potentiel d'Ardian dans la maîtrise des sortilèges et lui demanda d'abandonner son poste d'Arkhonte en chef et de se consacrer entièrement à la recherche des savoirs occultes. A mesure que ses travaux avançaient et malgré tout son savoir, Ardian constata que le moindre résultat lui prenait un temps infini, souvent trop long à son goût et que son corps le trahirait inexorablement, trop tôt. Il vieillissait.
Kali-Ma le sentit alors prêt pour accomplir un rituel qui lui donnerait ce qu'il souhaitait le plus : du temps. Ardian n'hésita pas une seconde et devint Kaïsharga avec, désormais, tout le temps nécessaire pour continuer ses recherches.
---
Peu importe l'Age…
Ardian s'installa à Walis et supervisa les travaux du Roi tout en continuant ses propres expérimentations. A la mort de Kalid-Ma et suite au Pacte d'Or de Thakok-An auquel il adhéra, Ardian devint le maître de Walis, une éminence grise supervisant tout sans jamais apparaitre, à jamais dissimulé aux tréfonds de la mine. Ardian organisa une nouvelle hiérarchie depuis le Pacte d'Or, en accord avec les arkhontes d'alors, perdus et sans pouvoir depuis la mort de Kalid-Ma. Il leur apprit les secrets de la magie profanatrice, faisant d'eux les dirigeants officiels de la mine. Seuls les arkhontes d'antan et désormais les actuels dirigeants de Walis, connaissent son existence. Les secrets et interdictions liés à l'or de la mine ne sont mis en avant que pour empêcher quiconque de découvrir sa présence.
Depuis lors, Ardian forme, modèle et influence les nouveaux dirigeants de Walis. Dans l'ombre, il tire les ficelles en accord avec Thakok-An, vers un objectif commun. Faire revenir le Roi par le biais des orbes d'obsidienne.
Tout son savoir et toutes ses connaissances convergent vers ce but. Rien ne l'en écartera et il utilisera l'or de Walis et tout son pouvoir pour parvenir à ses fins.
Nouvelle expérimentation? Dévotion envers son Roi? Qui sait ce que cache le cerveau torturé du profanateur…
En créant la maison prête-nom Tomblador, et avec la puissance de la maison Vordon, il est parvenu à localiser plusieurs orbes, dont deux sont désormais entre ses mains par intermédiaires.
L'une est actuellement possédée par Thaxos Vordon, bien qu'il semble en subir quelques effets négatifs. (voir le supplément : Les Négociants des Dunes)
L'autre, récupérée à Tyr, est entre les mains de Thakok-An. (voir La maison Vordon).
Une troisième a été retrouvée à Draj depuis près d'une décennie, au sein de la Demeure de l'Esprit. (voir le supplément : Psionic Artifacts of Athas)